http://www.specialtyrxaccess.com/publications/industryGuide/2018/Specialty-Pharmacy-Times-Industry-Guide-December_2018/developing-a-distribution-plan-for-your-specialty-product?p=7
Welcome to the
Specialty Pharmacy Times® Industry Guide.
One of our goals with this annual guide is to provide the industry and the overall marketplace with a tool to understand the process of commercializing a specialty product, with a specific focus on the supply chain. What follows is an outline that has proven to be successful in the launch of dozens of specialty products. I encourage you to review the guide in its entirety for insights into best practices.
One of several key decisions a manu- facturer must make when launching a new product is its distribution strategy. As the market has shifted from traditional community-based products to specialty medications, expanded solutions to better serve these products have evolved. High-touch, focused pharmacy solutions have emerged that are targeted toward maximizing patient outcomes for specialty products. Specialty pharmacy offers a greater level of patient care but also brings more complexity and the need for greater understanding to identify the right solution.
TIMING
A manufacturer that is contemplating a distribution strategy for the launch of a new product should be in the planning phase early from its anticipated launch date. Several critical variables need to be weighed when selecting a strategy. Often led by the supply chain department, the selection team should strategically evaluate its options. If a manufacturer does not have a team, a handful of experienced consultants are available who can drive the process of strategy, selection, and implementation.
Below are sample flow charts delineat- ing the process, accompanied by a list of significant milestones.
Figure 1
focuses on the actual specialty supply chain and
Figure 2
focuses on outward facing sales and marketing infrastructure.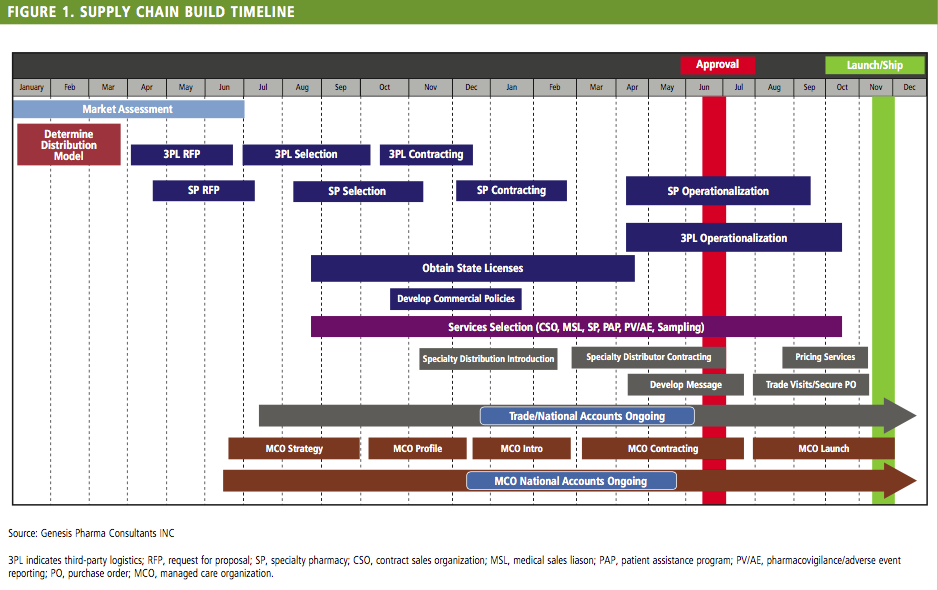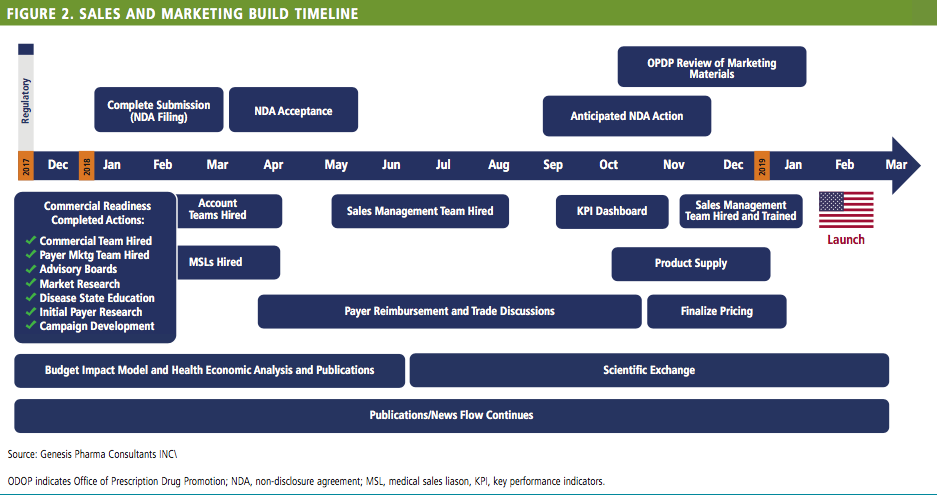 IS YOUR PRODUCT SPECIALTY? SELECTING A DISTRIBUTION MODEL
Specialty pharmaceuticals are generally defined as products used to treat chronic, high-cost, or rare diseases. They can be injectable, infusible, oral, or inhaled medications, and they tend to be more complex to maintain, administer, and monitor than traditional drugs. Therefore, they require closer supervision in their production and closer monitoring of a patient's overall therapy. Key characteristics include:
Frequent dosage adjustments
Dosage administration of injectable and infusible drugs
Potentially more severe adverse effects (AEs) than traditional drugs
Special storage, handling, and/or administration
Narrow therapeutic range
Periodic laboratory or diagnostic testing
Higher annual costs than traditional products ($10,000-$100,000)
Target small numbers of patients (5000-100,000)
Patient registration
Patient training and clinical call center
Compliance management
Clinical data reporting and analysis
Often, specialty pharmaceuticals can be subcategorized into 4 distinct areas that are defined by the method of administration. These often drive a plan around the use of specialty pharmacy:
Office-administered injectable products
Self-administered injectable products
Clinic- or office-administered infusible products
Select oral agents
Newer criteria around the responsibilities of specialty pharmacies have also emerged, such as:
Enhanced data collection and sharing
Risk evaluation and mitigation strategy (REMS) management
Inventory management
Coordination of care
Testing management
Reimbursement handling and patient assistance
White- and brown-bagging needs
SPECIALTY PHARMACY: GO OR NO GO
Specialty pharmacy is defined as the service created to manage the handling and service requirements of specialty pharmaceuticals, including dispensing, distribution, reimbursement, case management, and other services specific to patients who have rare and/or chronic diseases. Specialty pharmacy is a service that endeavors to provide 2 key deliverables:
1. A mechanism to manage the cost of specialty pharmaceuticals for the patient.
An opportunity to save money for the benefit sponsor compared with traditional models in which products are delivered through less efficient means, primarily via the hospital or physician office. Specialty pharmacy is more focused on specialty disease states, such as those listed below. On its website, an accredited specialty pharmacy will often describe its focused services, highlighting their expertise on these disease states. If your products treat the conditions below, chances are good that specialty pharmacy is in your future:
Hemophilia
Von Willebrand disease
Gaucher disease
Growth hormone deficiencies
Multiple sclerosis
Hepatitis (types A, B, C)
Pulmonary hypertension
Cystic fibrosis
Fertility/hormone therapies
Immune disorders (ie, intravenous immune globulin treatment)
Respiratory syncytial virus
Hematopoietic colony-stimulating factors
Rheumatoid arthritis/osteoarthritis
AIDS/HIV
Transplant
Oncology
Dermatology/psoriasis
Devices/testing
The focused services of specialty pharmacy greatly expand on the services offered in the traditional community pharmacy setting. They fall into several categories and are key elements to measure when selecting specialty pharmacy partners
(Figure 3).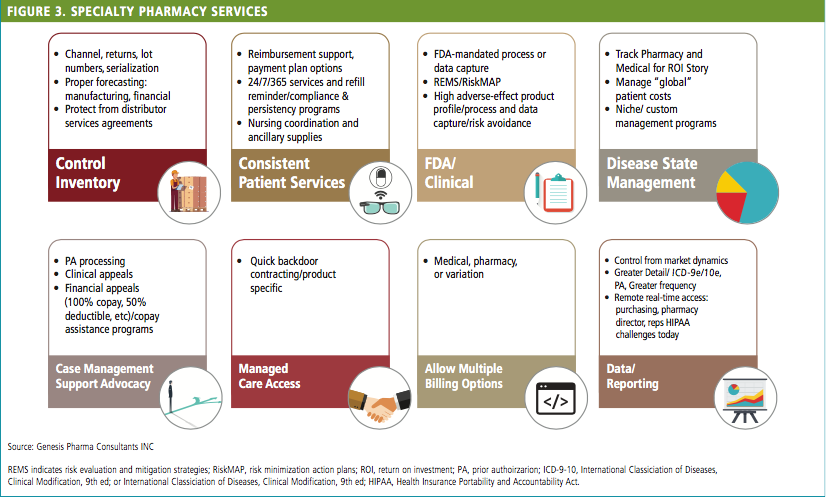 In the world of traditional community pharmacy, a prescription is handed to a patient or electronically transmitted to the drugstore to which the patient travels physically to pick up their medication. If the prescription is a new therapy, by regulation, the patient receives counseling and must be provided written information about their medication. In the specialty pharmacy environment, the flow is quite different
(Figure 4)
and can be more complicated for certain products
(Figure 5)
.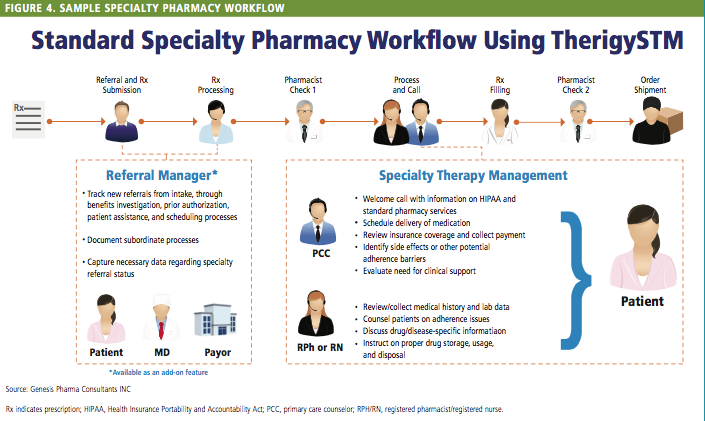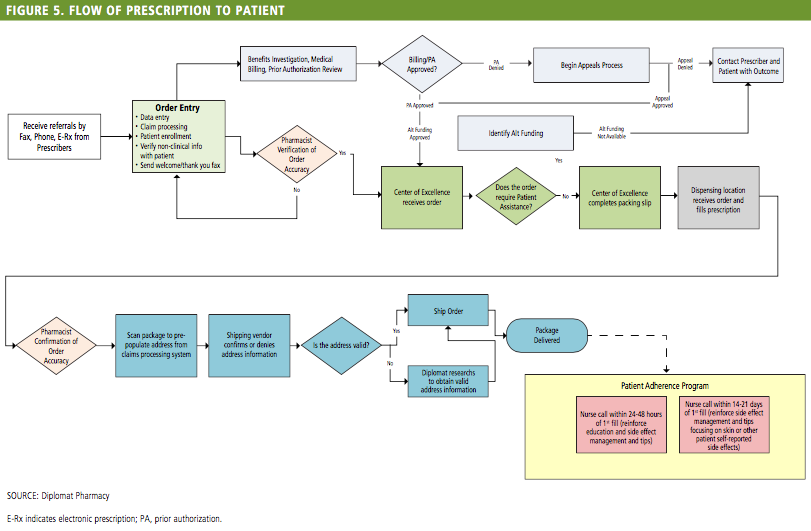 ASSESSING ESSENTIAL SERVICES TO INCLUDE IN YOUR REQUEST FOR PROPOSAL
A critical step in the selection process is the development of a request for proposal (RFP). As we've seen, specialty pharmacy offers a menu of services. Therefore, determining which services best fit the needs of your product is crucial. There are 4 major buckets of services that must be assessed, in addition to pricing
(Figure 6).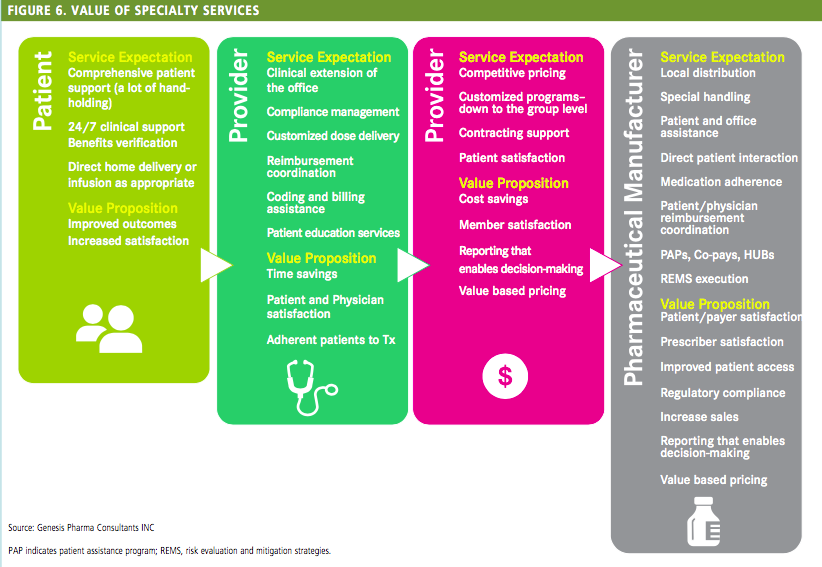 As specialty pharmacies usually fill a prescription the same day it is received, products are generally distributed by third-party carriers such as FedEx or UPS. Typically, products are delivered the next day to the patient, or in the case of white bagging, to the caregiver.
For controlled products and cold chain products, such as biotech injectables, specialized handling is often required. A key shipping requirement is that products must be maintained at the proper temperature. Products remain refrigerated while in the pharmacy's inventory and are shipped to patients in special packaging, typically containing refrigerated gel packs.
Kitting, providing the patient or caregiver with all essentials, is frequently provided to ensure that a patient has the necessary equipment to reconstitute and administer the product and dispose of any waste, including mixing vials, needles, syringes, infusion pumps, puncture-resistant containers, etc. Pharmacies work with patients to set up inventory management programs, utilizing just-in-time delivery processes that eliminate the need to maintain a large inventory, thereby ensuring the stability of the product on hand.
Reimbursement for specialty drugs can be extremely challenging, mainly due to product costs and duration of therapy. Specialty pharmacies frequently take on the assignment of benefits or the burden of obtaining reimbursement by billing insurance directly. Patients benefit by eliminating the claims process and the associated risk of nonreimbursement, which is a significant factor because so many of these products have complex reimbursement procedures and high product costs. Additionally, specialty pharmacies will verify insurance coverage prior to shipping products, which eliminates potential challenges down the road.
With the high-touch care that specialty pharmacies provide, patient hotlines are available for reimbursement-related questions and are staffed by product-area experts to ensure better customer support. These experts help patients navigate complicated insurance policies and procedures and focus on any plan- specific limitations and requirements, including copays, deductibles, coinsurance, lifetime spending caps, prior approval requirements, and pre-existing condition clauses. Because coverage is often denied, the specialty pharmacy may file an appeal on behalf of the patient. If the appeal is unsuccessful, the pharmacy can assist the patient in finding other means to obtain access to their medications via patient assistance programs or other methods of payment.
Most specialty pharmacies provide around-the-clock clinical support hot-lines, which may include staffing by pharmacists and nurses who are highly trained on specialty products and disease states and are able to answer questions on a wide range of clinical issues. As we've defined specialty products, and the nature of their associated diseases and treatments, it is critical that patients have access to information about administration, dosing, and AEs and reactions.
Cost-effective pharmacotherapy and disease-state management offer targeted interventions that improve patient education and health outcomes, thereby reducing the total cost of care on an outbound basis. Typically, patients are educated on the proper preparation and use of products through various communication channels, including video and print. This is complemented by nurses who may visit the home to assure that complex medical conditions and therapy are properly addressed. Study results show that poor compliance is frequently the result of difficult administration procedures and challenging AEs that accompany some products.
One cornerstone of specialty pharmacy is compliance—or following a treatment regimen as prescribed—and may include factors such as the timing and dosing of the drug. Persistence is defined by how well the patient remains on the prescribed therapy over time. Factors that contribute to poor compliance and persistence rates among patients who use specialty products include cost, AEs, and comorbidities. In turn, poor compliance and persistence can lead to diminished efficacy and outcomes that cause higher-cost inpatient treatments. By far, the top reason for choosing a specialty pharmacy is that their practices have been proven to lead patients to properly and consistently take their prescribed therapies.
All of these factors present a complex flow, which is the cornerstone of specialty services.
THE ROLE OF A HUB
Will you need a hub and specialty distributor? Typically, a manufacturer chooses to use hub services when managing more complex products across a broader network of specialty pharmacies.
Additionally, we are seeing an increase in the demand for institutional and medical practice dispensing. Therefore, the use of a distributor may be appropriate to sell products in the practice setting. The services of a hub often mirror the centerpiece services of a specialty pharmacy
(Figure 7)
, so manufacturers grant pharmacies in their limited distribution networks access to dispense a product that is driven through the resources of a hub.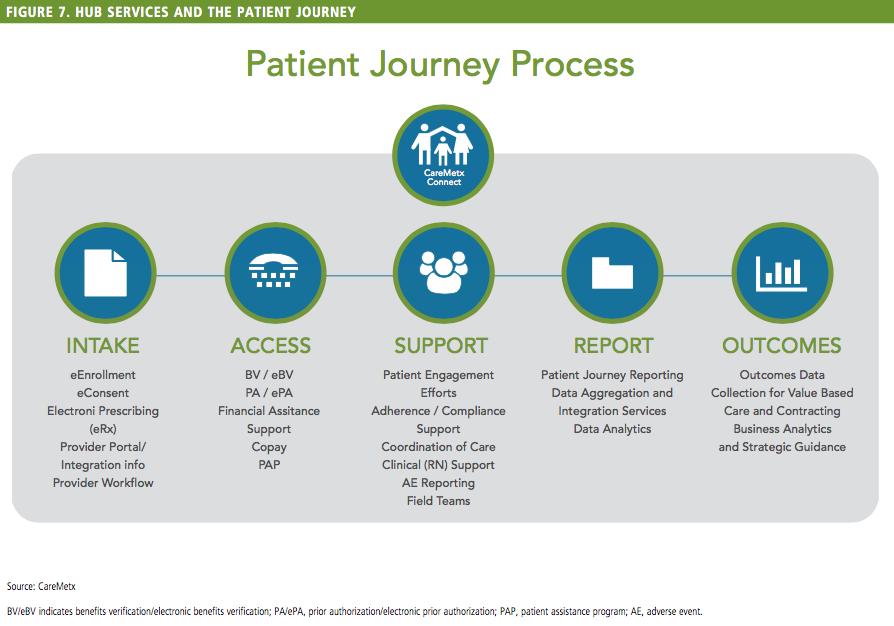 The process of selecting a hub often comes before selecting a specialty pharmacy. As such, a similar program design and selection process are essential to picking this important strategic partner.
SELECTING THE RIGHT PARTNERS
Once you've decided that your product will be best served through specialty pharmacy and which particular services best fit your product, you'll need to make several choices around the ultimate flow and mix of specialty pharmacies. Several specialty pharmacy models are currently in place that could be viable options to best manage the supply chain and clinical needs of your product. Many critical factors must be considered in sizing your pharmacy network. These choices are often defined depending on the number of specialty pharmacies in your network:
Exclusive (single-specialty pharmacy partner)
Limited (3 to 5)
Narrow (5 to 12)
Broad (more than 12)
Several gauging factors must be considered that are part of the art of selecting a network. The size of the potential patient population for the product is the most crucial, but you must also take into account any of the following that apply:
Orphan drug with limited patient population
Clinical profile and complexity of patient education
Necessity for controlled patient counseling
The high-touch needs of the product, including a REMS initiative, where necessary
Titration and blood test needs
If a drug benefit drives the utilization of large payer-owned specialty pharmacies balanced against high-touch specialty pharmacies
Best inventory control and cost of the product
The need for tighter data
SPECIALTY PHARMACY COMES IN MANY VARIETIES
As the specialty pharmacy has evolved, several variations of specialty pharmacy ownership have come to populate the marketplace today. It is critical for a manufacturer to consider the strategic importance of selecting the right potential partners when deciding on a specialty pharmacy, because the move may help with negotiating leverage and access. The listing below
(Figure 8)
, although far from inclusive of the entire marketplace, which continues to evolve, is a high-level sampling of specialty pharmacies and the major areas of ownership.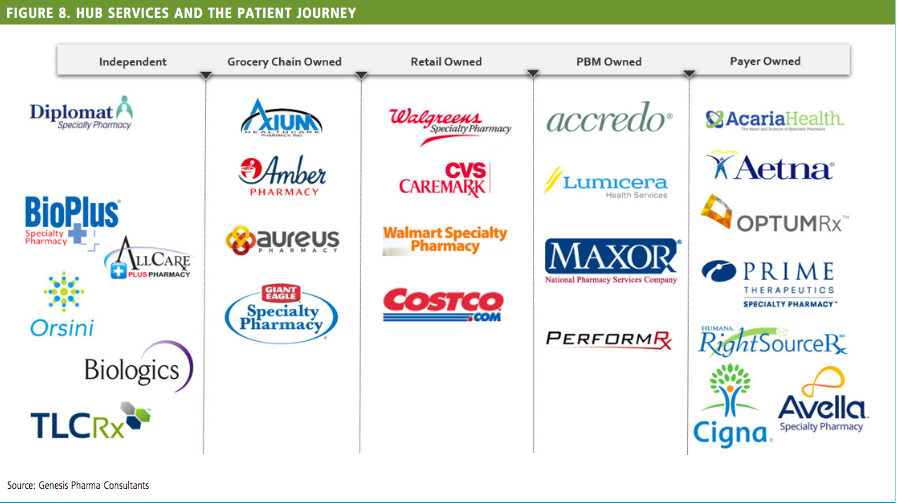 ACCREDITATION ​​​​​​​
In the last several years, accreditation has become the industry standard. For listings of accredited specialty pharmacies, consult the websites of the 2 major accrediting bodies, URAC and the Accreditation Commission for Health Care. The position of URAC is that their programs lead specialty pharmacy third-party accreditation in the industry, among payers. Make no mistake though, accreditation makes a difference. The increased desire for discrete quality-management strategies is a good indication of the shift toward superior coordinated care. This industrywide movement is cemented by the preference of payers that specialty pharmacies achieve third-party accreditation to confirm their commitment to quality, cost containment, and proper utilization of services.
When it comes to accreditation and the quality measures it illustrates for industry stakeholders, it is worth examining the standards of an accreditation body to see how the diverse pieces of the puzzle fit together. To illustrate the full-service elements that accreditation necessitates for specialty pharmacies, we need to explore some of the patient-centered standards from URAC.
As background, URAC specialty pharmacy accreditation standards cover a broad range of services that include drug handling, operations, and patient management. According to URAC, its primary elements of specialty drug accreditation, each of which contains its own standards for quality, are:
1. Customer service, communications, and disclosure
2. Specialty drug management
3. Pharmacy operations
4. Patient management
Managed care health plans are mandating URAC specialty pharmacy accreditation for several reasons. One is that the Affordable Care Act mandates health plans to have URAC health plan accreditation. It also helps align their standards for accreditation with the organizations they partner with and align both quality goals and clinical oversight. Another reason health plans mandate URAC accreditation is because it helps to narrow their network of pharmacies.
Accreditation also helps ensure that the specialty pharmacies that health plans partner with have solid third-party validation of their operations and foster continual improvement by regularly updating current best practices that help enhance operations and services.
In addition, several managed care health plans recently mandated in RFPs that specialty pharmacies have URAC specialty accreditation, which holds an organization accountable on several levels. For one, it forces an organization to review and implement new policies and procedures as the industry evolves. This guidance can help assure that your selection of partners aligns with the leaders in the specific specialty services and products that are provided for your product.
VENDOR SELECTION TRENDS ​​​​​​​
When selecting a specialty pharmacy network, it is critical that the RFP process includes rigorous documentation and full regimentation. This will ensure fair market value, vendor validation, and credentialing. In the absence of solid documentation, many states and other government payers—under the Physician Payments Sunshine Act, Any Willing Provider statutes, and other legislation—may challenge your selection. Should your product require a REMS, the RFP process will validate that your selection process has been fully vetted, and it can often be used for submission purposes on new product approvals that require such an assessment. The FDA may require manufacturers to disclose which pharmacies will be in the network, along with validation and documentation of their capabilities.
THE RFP PROCESS ​​​​​​​
Pharma companies should always use the RFP process for documentation of company viability, education, documentation of internal capabilities, departmental inquiries, focus areas, documentation for FDA/REMS submissions, verification of pricing methodology, and pricing for services and benchmarking. These processes establish demonstrated best practices should there be a need for a future reference at the manufacturer level.
Establishing a solid timeline will assure completion of a project within the scope of the deliverables. This can vary depending on several factors that may rate limit the timing, such as FDA review, REMS, manufacturing, etc.
THE FINAL SELECTION PROCESS
After a thorough analysis and review with the selection team, typical next steps include narrowing the field, inviting bidders to present to the team, or a combination of site visits. The use of RFP metrics-driven assessment tools can make this element as objective as possible and drive the decision. Here again, the use of highly qualified consultants with deep experience in the specialty space is crucial to making the right selection. It's important that your organization ask all the right questions through every stage of the process.
As the field gets is winnowed, the team should be reviewing contracts and other service agreements. The pharma industry is in a highly regulated environment, so there is typically a good amount of back-and-forth until the legal teams can align on appropriate contractual language. Critical elements of the contracting process include:
The contract must accurately include the entire business relationship.
The contract should contain manufacturer representation that there is a legitimate business and clinical need for the services.
The contract should contain a representation, by each party, that it will not violate the Anti-Kickback Statue.
There should be measurable key performance indicators (KPIs) associated with each service provided, and compensation should require meeting certain KPI metrics.
Each material stakeholder should certify that the written agreement reflects all the material terms of the arrangement and annually recertify these terms.
Each contract should be vetted through the formal contracting review process.
The reality is, however, that despite all of the tedious efforts to develop well-measured parameters around your decision, the gut feeling of which entities can best manage your product will likely prevail. The development of standard operating procedures and implementation are the next and final steps, which we will cover in a future article in
Specialty Pharmacy Times ®.
Specialty pharmacies that win agreements offer comprehensive clinical services, therapeutic expertise, and access to patients and have strong data reporting capabilities. Typically, the specialty pharmacies that have access to preferred payer relationships have broader lines of products. Establishing relationships with manufacturers has cost and access advantages. Many manufacturers choose to have a network of specialty pharmacies that provide broader access to patients and lower the resistance from payers who may own these pharmacies. Health professionals often have a degree of influence over the specialty pharmacy that patients choose and are best aware of which providers offer comprehensive support services, therapeutic expertise, and access to products. More recently, we have seen smaller regional specialty pharmacies become more successful, in part because of strong relationships with local physicians and payers. Most specialty pharmacies do not market directly to individual patients.
GETTING THE RIGHT EXPERTISE
Choosing your specialty pharmacy strategy is a complex, highly analytical process tied to substantial strategy setting. Most manufacturers utilize the services of an outside consultant who should have the benefit of having run through the process several times in the past. Choosing the right expert is as important as assuring your best outcome. Look to get the right help to get it done: those with profound expertise, high standards, deep relationships, and the ability to work well within your organization's culture.