An opportunity to save money for the benefit sponsor compared with traditional models in which products are delivered through less efficient means, primarily via the hospital or physician office. Specialty pharmacy is more focused on specialty disease states, such as those listed below. On its website, an accredited specialty pharmacy will often describe its focused services, highlighting their expertise on these disease states. If your products treat the conditions below, chances are good that specialty pharmacy is in your future:
Hemophilia
Von Willebrand disease
Gaucher disease
Growth hormone deficiencies
Multiple sclerosis
Hepatitis (types A, B, C)
Pulmonary hypertension
Cystic fibrosis
Fertility/hormone therapies
Immune disorders (ie, intravenous immune globulin treatment)
Respiratory syncytial virus
Hematopoietic colony-stimulating factors
Rheumatoid arthritis/osteoarthritis
AIDS/HIV
Transplant
Oncology
Dermatology/psoriasis
Devices/testing
The focused services of specialty pharmacy greatly expand on the services offered in the traditional community pharmacy setting. They fall into several categories and are key elements to measure when selecting specialty pharmacy partners
(Figure 3).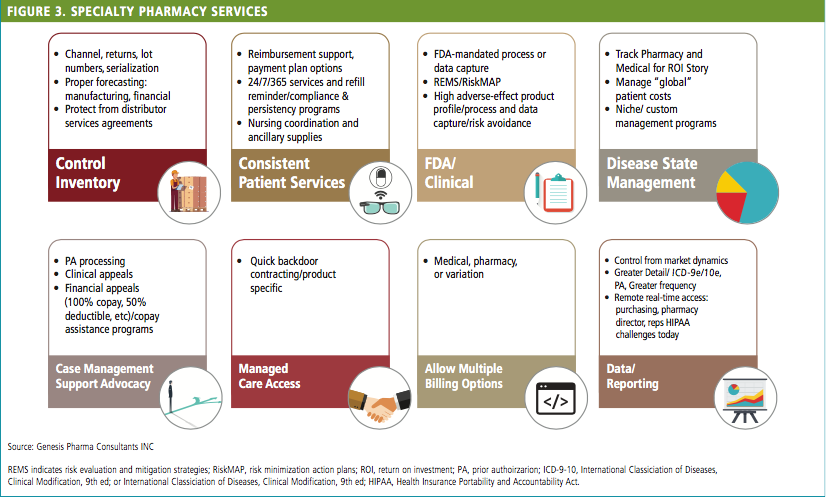 In the world of traditional community pharmacy, a prescription is handed to a patient or electronically transmitted to the drugstore to which the patient travels physically to pick up their medication. If the prescription is a new therapy, by regulation, the patient receives counseling and must be provided written information about their medication. In the specialty pharmacy environment, the flow is quite different
(Figure 4)
and can be more complicated for certain products
(Figure 5)
.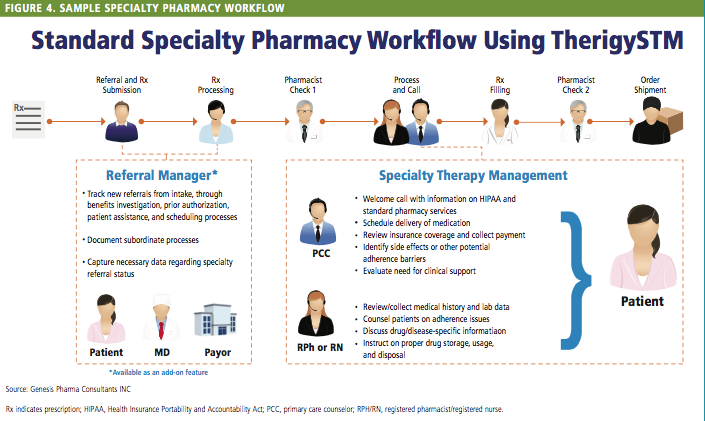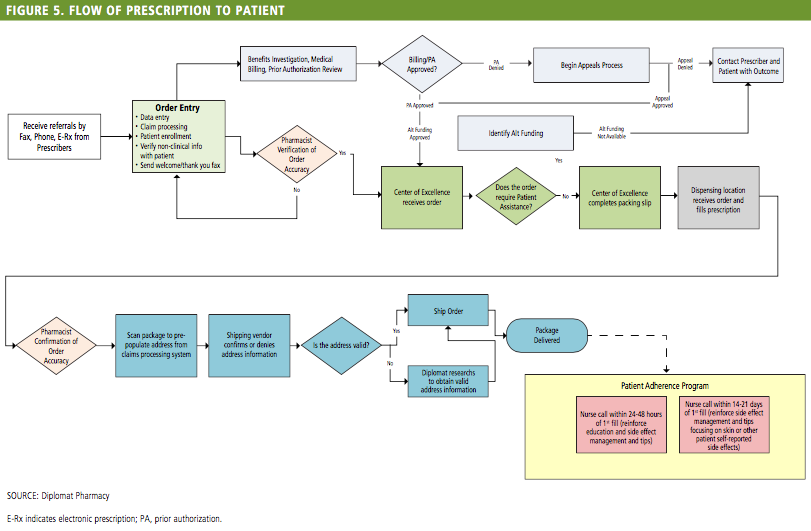 ASSESSING ESSENTIAL SERVICES TO INCLUDE IN YOUR REQUEST FOR PROPOSAL
A critical step in the selection process is the development of a request for proposal (RFP). As we've seen, specialty pharmacy offers a menu of services. Therefore, determining which services best fit the needs of your product is crucial. There are 4 major buckets of services that must be assessed, in addition to pricing
(Figure 6).