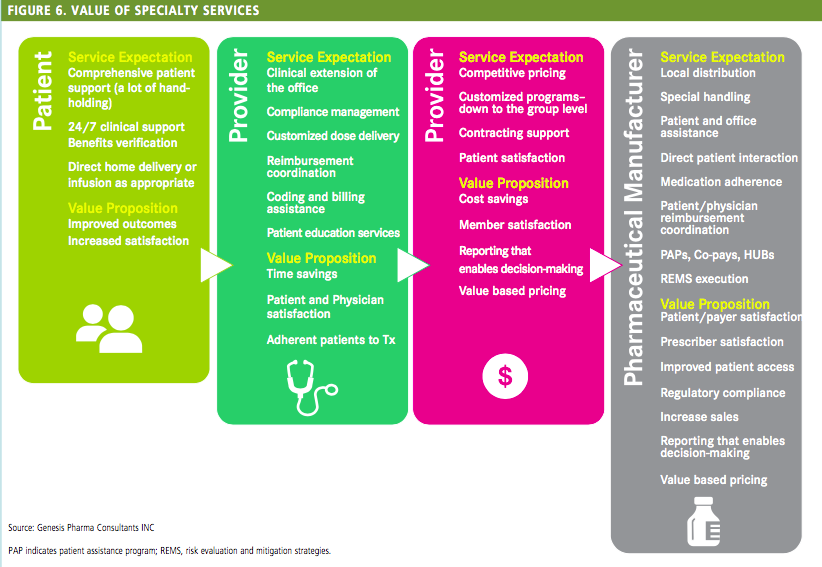 As specialty pharmacies usually fill a prescription the same day it is received, products are generally distributed by third-party carriers such as FedEx or UPS. Typically, products are delivered the next day to the patient, or in the case of white bagging, to the caregiver.
For controlled products and cold chain products, such as biotech injectables, specialized handling is often required. A key shipping requirement is that products must be maintained at the proper temperature. Products remain refrigerated while in the pharmacy's inventory and are shipped to patients in special packaging, typically containing refrigerated gel packs.
Kitting, providing the patient or caregiver with all essentials, is frequently provided to ensure that a patient has the necessary equipment to reconstitute and administer the product and dispose of any waste, including mixing vials, needles, syringes, infusion pumps, puncture-resistant containers, etc. Pharmacies work with patients to set up inventory management programs, utilizing just-in-time delivery processes that eliminate the need to maintain a large inventory, thereby ensuring the stability of the product on hand.
Reimbursement for specialty drugs can be extremely challenging, mainly due to product costs and duration of therapy. Specialty pharmacies frequently take on the assignment of benefits or the burden of obtaining reimbursement by billing insurance directly. Patients benefit by eliminating the claims process and the associated risk of nonreimbursement, which is a significant factor because so many of these products have complex reimbursement procedures and high product costs. Additionally, specialty pharmacies will verify insurance coverage prior to shipping products, which eliminates potential challenges down the road.
With the high-touch care that specialty pharmacies provide, patient hotlines are available for reimbursement-related questions and are staffed by product-area experts to ensure better customer support. These experts help patients navigate complicated insurance policies and procedures and focus on any plan- specific limitations and requirements, including copays, deductibles, coinsurance, lifetime spending caps, prior approval requirements, and pre-existing condition clauses. Because coverage is often denied, the specialty pharmacy may file an appeal on behalf of the patient. If the appeal is unsuccessful, the pharmacy can assist the patient in finding other means to obtain access to their medications via patient assistance programs or other methods of payment.