Most specialty pharmacies provide around-the-clock clinical support hot-lines, which may include staffing by pharmacists and nurses who are highly trained on specialty products and disease states and are able to answer questions on a wide range of clinical issues. As we've defined specialty products, and the nature of their associated diseases and treatments, it is critical that patients have access to information about administration, dosing, and AEs and reactions.
Cost-effective pharmacotherapy and disease-state management offer targeted interventions that improve patient education and health outcomes, thereby reducing the total cost of care on an outbound basis. Typically, patients are educated on the proper preparation and use of products through various communication channels, including video and print. This is complemented by nurses who may visit the home to assure that complex medical conditions and therapy are properly addressed. Study results show that poor compliance is frequently the result of difficult administration procedures and challenging AEs that accompany some products.
One cornerstone of specialty pharmacy is compliance—or following a treatment regimen as prescribed—and may include factors such as the timing and dosing of the drug. Persistence is defined by how well the patient remains on the prescribed therapy over time. Factors that contribute to poor compliance and persistence rates among patients who use specialty products include cost, AEs, and comorbidities. In turn, poor compliance and persistence can lead to diminished efficacy and outcomes that cause higher-cost inpatient treatments. By far, the top reason for choosing a specialty pharmacy is that their practices have been proven to lead patients to properly and consistently take their prescribed therapies.
All of these factors present a complex flow, which is the cornerstone of specialty services.
THE ROLE OF A HUB
Will you need a hub and specialty distributor? Typically, a manufacturer chooses to use hub services when managing more complex products across a broader network of specialty pharmacies.
Additionally, we are seeing an increase in the demand for institutional and medical practice dispensing. Therefore, the use of a distributor may be appropriate to sell products in the practice setting. The services of a hub often mirror the centerpiece services of a specialty pharmacy
(Figure 7)
, so manufacturers grant pharmacies in their limited distribution networks access to dispense a product that is driven through the resources of a hub.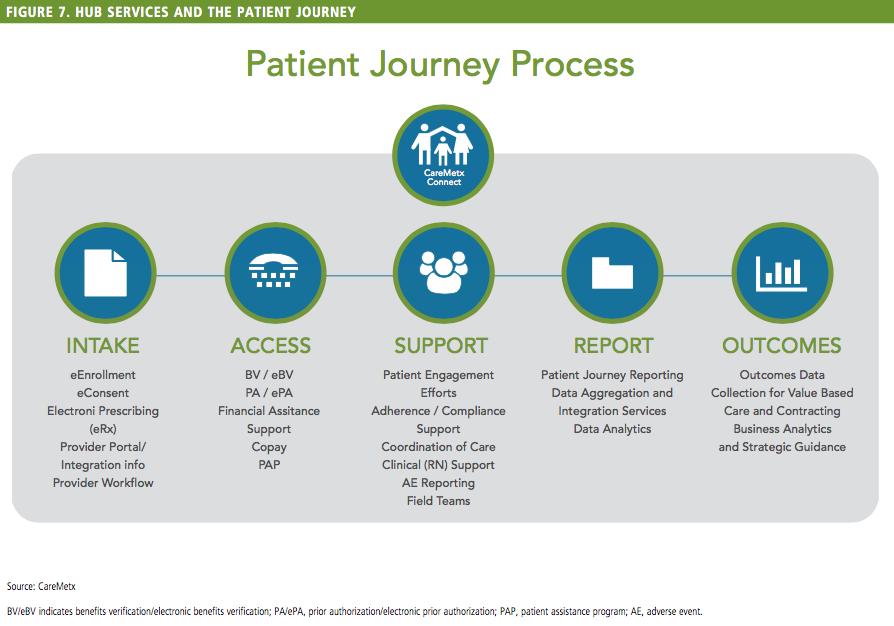 The process of selecting a hub often comes before selecting a specialty pharmacy. As such, a similar program design and selection process are essential to picking this important strategic partner.