SELECTING THE RIGHT PARTNERS
Once you've decided that your product will be best served through specialty pharmacy and which particular services best fit your product, you'll need to make several choices around the ultimate flow and mix of specialty pharmacies. Several specialty pharmacy models are currently in place that could be viable options to best manage the supply chain and clinical needs of your product. Many critical factors must be considered in sizing your pharmacy network. These choices are often defined depending on the number of specialty pharmacies in your network:
Exclusive (single-specialty pharmacy partner)
Limited (3 to 5)
Narrow (5 to 12)
Broad (more than 12)
Several gauging factors must be considered that are part of the art of selecting a network. The size of the potential patient population for the product is the most crucial, but you must also take into account any of the following that apply:
Orphan drug with limited patient population
Clinical profile and complexity of patient education
Necessity for controlled patient counseling
The high-touch needs of the product, including a REMS initiative, where necessary
Titration and blood test needs
If a drug benefit drives the utilization of large payer-owned specialty pharmacies balanced against high-touch specialty pharmacies
Best inventory control and cost of the product
The need for tighter data
SPECIALTY PHARMACY COMES IN MANY VARIETIES
As the specialty pharmacy has evolved, several variations of specialty pharmacy ownership have come to populate the marketplace today. It is critical for a manufacturer to consider the strategic importance of selecting the right potential partners when deciding on a specialty pharmacy, because the move may help with negotiating leverage and access. The listing below
(Figure 8)
, although far from inclusive of the entire marketplace, which continues to evolve, is a high-level sampling of specialty pharmacies and the major areas of ownership.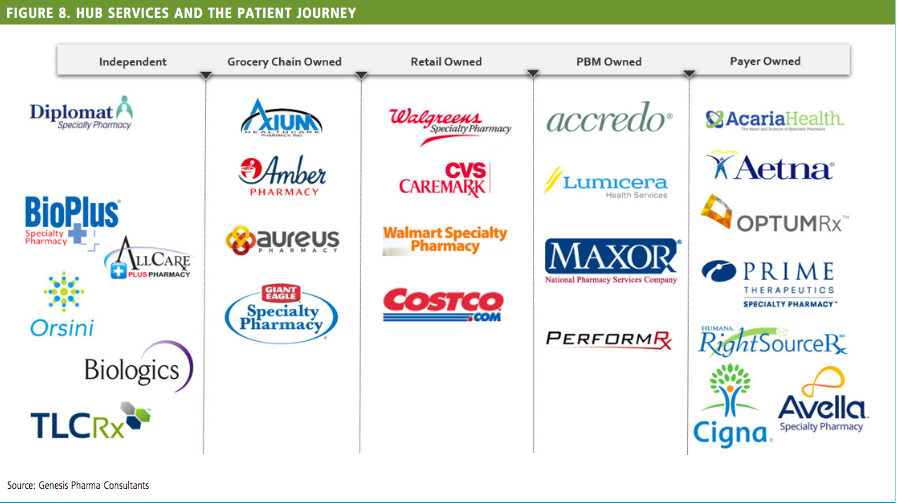 ACCREDITATION ​​​​​​​